Free Old Car Removals Melbourne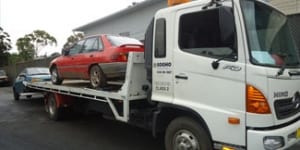 We are free old car removals in Melbourne. We also  free car removals Melbourne. If you are looking company who pick your old car. So we are providing old car removals service in Melbourne . We pay cash for old cash for car in Melbourne and pay you instant cash.We pick scrap, used , junk and also we are free old car removals in Melbourne. We pick up your old car same day without any towing charges.
Cash For Cars Removals Melbourne
We are car removals we pay cash for cars up to 7,000.We are free free scrap car removals Melbourne. We also deal in trucks, utes,vans and 4wds. We pick any make, model, year and age. If you have registered and unregistered vehicles. Just call and we come to pick up .We pay cash for cars best offer and pay you instant cash up to 7,000. Get a free quote now. If you happy with price book your car and we will come to pick on your location.
 Car Wreckers in Melbourne
We are car wreckers in Melbourne.We provide free car removals services in Melbourne.If your car is too old and you want to get rid of it. Just call our car removals team. You must tell all information about your car, make, model and age. And also tell your location. If you taken out any parts or if condition is so worst must let him know. We will give you good price offer and you must will satisfy. If you happy this quote book straight away. Remember during the booking you must let him your car proper  condition, Your location, address, postal code, land mark and nearest location.
Also tell him your active number and your availability. Our towing driver reach you according to decide time and pay you cash instantly. You have to provide you driving license id and sign on the receipt.